Why Everyone Should Go To Court (Once)*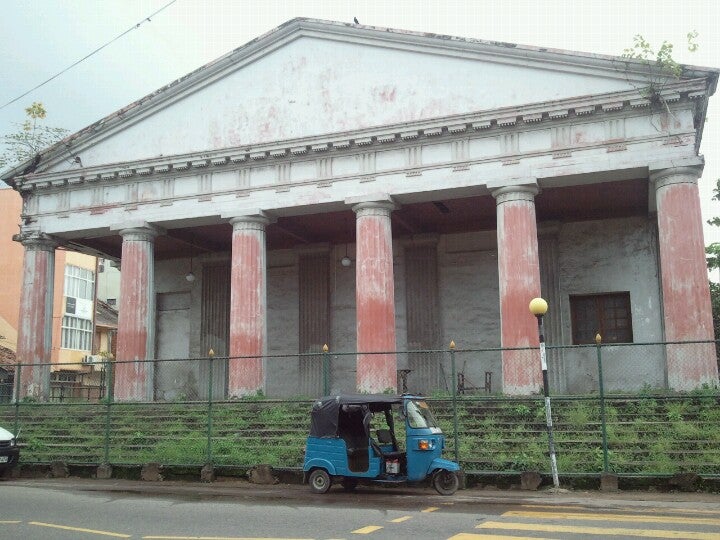 Yesterday i was 'dragged to court'. Must to the chagrin of my family. 'Why did you get involved?' 'you should have just walked away', now you're going to have to waste half your life there and you're never going to be able to even leave the country, was the general surmise.
It was about this. Some three months ago i was driving down Lorenz Rd and discovered the body of Kanapadipillai Udayakanthan, he didn't seem to have had a very comfortable death judging by the blood and wounds. I told the cops, and with one casual phone call on Sunday afternoon someone from the Bambalapitiya Police summoned me to court. Told me to come the next day. No letters sent to my house, no paperwork just 'Hello, is this Abdul Halik? Come to court tomorrow at 9 a.m kthnksbye'.
I'm like erm.. is this some sort of prank call? So i asked my cousin who practices in Hulftsdorp, apparently this is the yoush when it comes to criminal cases. He scared me a little and asked if i needed a lawyer, i filled him in on the details and he said that i could probably make do without one. 'Probably'? relief mixed with apprehension, what have i got myself into?
Hulftsdorp is amazing. I'd only been there once before. You have all these massive old Dutch buildings. This one was so big that it stretched for almost a kilometer down the road i went in search of a mosque. And the majority of them don't seem to be under heavy use, and have crumbling facades invaded by weeds and rubble.
I took my phone into court. No one checked. We sat in the back row (my dad insisted on accompanying me). Soon it was so crowded that people were jostling for standing space. It was hot and sweaty, and the lawyers were in black ties and jackets. I'm glad my ten year old self got distracted from the temporary ambition of becoming a lawyer.
Above it all one man ruled. No not the judge. The mudaliyar, to whom all the lawyers were sugary sweet . My dad filled me in. The mudaliyar is the in-between between the judge and the rest of the court. Administrative staff like him and the Registrar (what the mudaliyar becomes when he gets a promotion) are powerful because they can move files up and down and presumably do wondrous things to paperwork that can make or break a case. They net in the cash from corporates, rich/desperate people eager to make something go away.
The justice system wouldn't be complete without its own unique brand of injustice.
I hear clanking. Like a thousand little bells going off. The prisoners, manacled, are being brought to the little cage in the corner from where they'll observe proceedings. Wait what am i saying, they're not prisoners yet, none of them have been proven guilty. But none of them have been proven innocent either. Apparently this is enough to cage and chain them.
There were some interesting cases being heard. One drug addict (going by his sallow cheeks, shadowy skin and sunken eyes) was allowed to represent himself. He was asked to cross examine the men testifying against him and he kept directing his questions to the mudaliyar, who repeatedly barked at him to 'ask the damn witness, not me'. The phone in question was an ancient nokia 1100. The cost of the whole court case probably cost everyone involved several times its value.
He was put back into his cage and the case was postponed. At recess i saw him with his family throwing a little baby girl up and down in his arms. I smiled, he smiled and nodded as if we were long lost friends.
I felt sorry for the thambili seller up next. He had managed to acquire the services of a lawyer, who pleased on his behalf. Apparently he's had no income for five days since the police confiscated his cart for trading on the pavement. He was given the cart, and let off with a warning.
The woman accused of prostitution was the best. She looked half like a beggar, and didnt seem to be al there. She loudly protested her innocence for 'ayale yama' or 'indecency' (Sri Lanka apparently doesnt have direct laws against prostitution). Whereupon said the judge (always via the mudaliyar, who is used as a mouthpiece) that she could get off with a fine of Rs 100 (yes 100 Rupees!) if she pleaded guilty. She wouldn't hear of it. And was remanded for 9 days pending trial. I was like 'you go girl'!
My testimony was carried out in the confines of the judge's office. A stenographer took it down as i spoke on an ancient typewriter. I signed and left. The whole thing took about 5 minutes. But I sat in court for 5 hours.
Going to court is a hassle. I don't think i'd like to do it several days over and over and over. Probably why a lot of Sri Lankans walk away or tip annonymously and straight out avoid any involvement like the plague. Being caught up in a case might mean a major restriction on your life, the inability to leave the country for extended time periods. And cases can last for years. Even decades. But i hugely enjoyed my visit to court yesterday. Everyone should go once. You can just walk in and sit down and watch. No need of cardboard summons even.
*title changed from Why Everyone Should Go To Court (as opposed to Once)